Prof. MUDr. Daniela PELCLOVÁ, Ph.D., FEAPCCT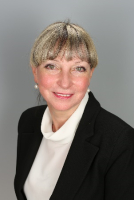 Charles University, Prague, Czech Republic, EU
Position: Emeritus Head of the Department of Occupational Medicine at the First Faculty of Medicine of the Charles University, Prague, Czech Republic
Specialization: Occupational Medicine and Toxicology

At the NANOCON´18 conference Daniela Pelclova will present an invited lecture at the session D "Biomarkers of oxidative stress and inflammation in humans exposed to nanoparticles by inhalation".

Personal Background and Education:
1978 graduated at the Charles University in Prague, certified in Internal and Occupational Medicine,
1990 Ph.D., 1996 Associate Professor Toxicity and genotoxicity of toluene, 2005 Full Professor with presentation: Chronic effects of 2,3,7,8-tetrachlorodibenzo-p-dioxin in workers exposed during herbicide production.
1995 - 2017 Head of the Department for Occupational Medicine with Toxicological Information Centre for the Czech Republic, First Medical Faculty, Charles University in Prague and General University Hospital in Prague, 2018 - Professor at the same Department;
Fellow of the Collegium Ramazzini and Fellow of European Association of Poison Centres and Clinical Toxicologists.

Research Interests and main results:
Occupational Toxicology and Pneumotoxicology, with the focus on the inhalational exposure to nanoparticles in the humans, exposed to nanoTiO2, nanoFe oxides, nanocomposites. Author of more than 10 articles proving the damaging effects of nanoexposures in workers, researchers and office employees and increased markers of oxidation of nucleic acids, lipids and proteins and markers of inflammation. Now working on the prospective study on DNA damage pattern changes on research nanocomposites workers.

Publication activity:
more than 200 publications, about 120 with IF, about 800 citations in WOS (without-self-citations), Hirsch-index: 19.
Author of the textbooks Occupational Diseases and Intoxications, Karolinum Prague 2002, 2006, 2014; 15 x co-author of a textbook.