Prof. Dr. Oliver REISER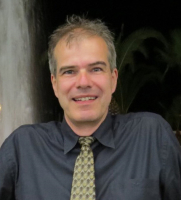 Universität Regensburg, Germany, EU
Position: Professor of Chemistry and Leader of Research Group, Institute of Organic Chemistry, Faculty of Chemistry and Pharmacy, Universität Regensburg, Germany
Specialization: Stereoselective synthesis and Catalysis.

At the NANOCON´18 conference Oliver Reiser will present an invited lecture "Mag(net)ic Nanocatalysts - Concepts and Applications" at the session B Industrial & Environmental Applications of Nanomaterials.
Personal Background and Education:
Oliver Reiser studied chemistry at the universities of Hamburg, Jerusalem and Los Angeles (UCLA). He obtained his Ph.D. in 1989 at the university of Hamburg in the group of Prof. Dr. A. de Meijere. After 2.5 years as a postdoctoral fellow with Dr. R. Miller, IBM Research Center, San Jose, USA and with Prof. Dr. D. A. Evans, Harvard University, Cambridge, USA, he moved in 1992 to the Universität Göttingen as assistant professor, and in 1996 to the Universität Stuttgart as associate professor. In November 1997 he became professor at the Universität Regensburg, where he also held the position of Dean of the Faculty of Chemistry and Pharmacy and Vice President (Research) of the University of Regensburg.
Research Interests and main results:
The research interests of the Oliver Reiser research group include the topics of catalysis, natural and active substances and peptide foldamers. The group makes extensive use of all modern techniques for the synthesis of organic substances, including the use of flow reactors, microwaves and liquid phase high pressure. New connections and materials are analyzed with modern methods such as: B. NMR, GC, HPLC, MS, CD, or TEM.
In the field of catalysis, the Reiser Group works equally with metal and organocatalysts, with central themes on photoredoxcatalysis and the development of asymmetric processes to fine chemicals from renewable raw materials such as sugars or heteroaromatics. The Group is particularly interested in immobilization of catalysts on organic, inorganic and perfluorinated carriers as well as nanoparticles, so as to achieve their easy recovery and reuse.
Main results: Magnetically supported catalysts and reagents, e.g. commercially available "Turbobeads™ TEMPO". Photoredox catalysis based on copper. Utilization of furans and pyrroles as platform chemical for bulk and fine chemicals.
Publication activity:
Prof. Oliver Reiser is author or co-author of over 250 publications, number of citations exceed 10 000; H-index: 58.