Assoc. Prof. Dr. Aleš PANÁČEK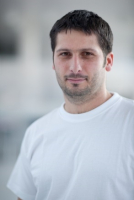 Palacký University in Olomouc, Czech Republic, EU
Position:
Senior Researcher at the Regional Centre of Advanced Technologies and Materials, Palacký University Olomouc
Specialization:
Metal nanoparticles and nanocomposites and their biomedical and environmental applications

At the NANOCON´18 conference Ales Panacek will present an invited lecture at the session C "Bacterial resistance to silver nanoparticles".

Personal Background and Education:
Aleš Panáček was born in 1978 (Czech Republic) in Olomouc. He studied Physical chemistry at the Palacký University Olomouc (1997-2002). In 2006 he earned his Ph. D. in Physical chemistry at the same university. And after his Habilitation at the Palacký University Olomouc he was appointed as Titular Assoc. Prof. in 2015. From 2005 he works at the Palacký Univesity Olomouc, at the Department of Physical Chemistry of Faculty of Science and as senior researcher at the Regional Centre of Advanced Technologies and Materials which has been established at the Faculty. He has experience from several international stays: at Bar-llan University in Tel Aviv (Israel), at Argonne National Laboratory in Chicago (U.S.A.) and at Centre de Recerca en Sanitat Animal (CReSA) of Universitat Autonoma de Barcelona (Spain).

Research Interests and main results:
R&D activities of Aleš Panáček are focused on Synthesis and characterization (TEM, DLS) of metal nanoparticles and nanocomposites
Biomedical and environmental applications of metal nanoparticles and nanocomposites
Application of nanoparticles and nanocomposites in heterogeneous catalysis
Application of nanoparticles and nanocomposites in Raman spectroscopy
Publication activity:
About 50 publications, 2770 (without self-citations); Hirsch Index: 17
More details: http://fch.upol.cz/en/department/staff/doc-rndr-ales-panacek-ph-d/